Canucks Autism Network Jobs and Careers
Organizational Profile & Employment Opportunities
Job Posts in Canada | AB | BC | MB | NB | NF | NS | ON | QC | SK
Employment in Canada | AB | BC | MB | NB | NF | NT | NS | ON | QC | SK |
Canadian Companies, Organizations, Schools in Alberta or anywhere else in Canada, etc can now post job vacancies free-of-charge at Canadian-Universities.net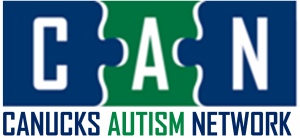 Description of Canucks Autism Network
Founded in 2008, the Canucks Autism Network (CAN) delivers programs and services to children and families affected by autism throughout the province of British Columbia. Our programs are inclusive, accessible and welcoming to participants of all abilities.

Our goal is to enhance the quality of life for those living with autism by providing access to innovative year-round programs designed to meet the unique behavioural, emotional, and physical needs of people on the spectrum.

Job Postings at Canucks Autism Network
None at this time. Visit their website for more current job listings and career information.